On the hottest day ever recorded in England, it was unsurprising when Keshav Maharaj chose to bat first after calling correctly. History was not on the side of the team electing to bat first at the Riverside, with just 37% of side batting first emerging victorious since the millennium, but the prospect of toiling for nearly four hours in 37°C heat was not an appealing one for the South Africans.
Much of the build-up was dominated today by Ben Stokes' shock ODI retirement, but quietly under the buzz around England's Test captain's one-day swan song, Matthew Potts received his first ODI cap. Potts has been a real find for England with the red ball this summer. His nagging and relentless accuracy has earned him 18 Test wickets at an average of 26.72. In Tests this summer he hit a good line and length with 41.3% of his deliveries, more than any other bowler on display. The hope would have been that this ability to land the ball in the same area time and time again would translate into the white-ball arena, and provide Buttler with control in the Powerplay.
Unfortunately for Potts, it didn't work out that way on his debut. His first four overs went for 33 despite hitting a good line and length with 59.1% of his balls bowled. He learnt the hard way that in international white ball cricket, the margin for error is incredibly small. Any time he missed his length, he often found himself disappearing to the fence.
The heat took it's toll on Potts who disappeared from the field after his fourth over, suffering from the extreme temperatures, and was not seen again. The South African batters then took advantage against a depleted England attack and proceeded to put on two 100 runs partnerships for the second and third wicket.
The intrinsic part of both of those two partnerships was Rassie van der Dussen. He made his highest score in international cricket, and his third ODI century. His first hundred runs saw just 8.7% false shots played, which is the lowest false shot percentage of any of van der Dussen's ODI centuries, by a distance. He swept and reverse swept well and maneuverer the fielders well in the heat, hitting the gaps and running hard.
Midway through his innings after reverse sweeping Adil Rashid for four, his career ODI average against spin crept up to over 90. This meant that he had the highest ODI average against spin of all time, passing Babar Azam's 89.25. He was eventually dismissed by the leg-spin of Liam Livingstone which brought his average against spin back down to 86.22 – a still very impressive figure, and a foundational pillar of his overall one-day game.
Lusty blows from in-from IPL stars Aiden Markram and David Miller got South Africa up to an extremely competitive total of 333-5, making them 59% favourites on WinViz at the halfway stage.
Bairstow and Roy continued to add to their ridiculous record as an opening pair, passing fifty in the 11th over of the match with relative ease. As a pair, they have passed fifty on 26 of their 49 innings together, and average of just below 60 as an opening pair. Their run rate of 6.88 is matched by no established opening pair in ODI history. Although the beginning of their partnership today did not contain the usual abundance of boundaries we are used to from this pair, it showed maturity and an ability to ride out the tough spells in order to cash in later. They passed 100 in the 19th over, and was looking worrying for the South Africans, before Roy immediately proceeded to chip Maharaj to David Miller at long-on the very next ball.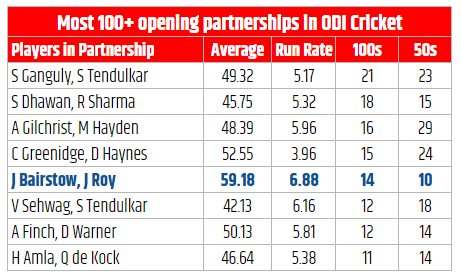 Bairstow, Buttler, Stokes and Livingstone then followed Roy back to the shed in fairly quick succession leaving England 194-5 and way behind the rate, needing 10's. Root amassed a classy better than a run-a-ball 86, but it was too little too late as England eventually lost by 62 runs as Root received little support from the other end and the chase fizzled out.
England head to Old-Trafford on Thursday one down in the series, with just one win at home in ODI cricket this summer and a Stokes shaped hole in the middle order. How will they recover?
Rufus Bullough is an analyst for CricViz
@rufus_cricket